The story of Happy Jack's Maple began in 2009. I had been working my dream job as a police officer and had just finished building a new home for my wife and I. You could say life was pretty sweet, and to make things even sweeter, we were expecting our first child in October of that same year. The thing about life is, it can change in an instant… Our son David was born and the doctors advised us that he likely had Down Syndrome. Our wonderful day was now filled with tears, confusion, and anger, halting the world we knew to a standstill. My wife and I were terrified of the unknown future that faced our family. There were however a few things we did know for sure; that our newborn boy was beautiful and that we would do anything for him. 
Time had passed and we began to make the transition from married with no kids to married with a child with special needs. There was a lot to learn during this time and I'll be the first to tell you, we didn't have all the answers. We relied heavily on the support of our family and friends. With their help, things began to settle down into the rhythm known as life, some days easier than others. What kept me up at night the most was not knowing what the future held for David as an adult. He moves and learns at his own pace and makes great strides but at a much slower pace than typical children. I knew I wanted to do something to plan for David's future. I want David to be a contributing member of society and feel part of the community. I began to brainstorm ideas, thinking of business ideas that he could participate in as he got older. I needed to be practical and have whatever it was ideally take place at home where I could spend more time with my family. 
Shortly after I began brainstorming ideas, a family friend approached me with an opportunity. He had a person making maple syrup harvesting sap from his maple trees a few miles away. He said the gentleman was going to stop because of health issues and was wondering if I wanted to take over tapping his trees. I had never made maple syrup before and the idea was interesting to me as we already had maple trees on our own property. The most ironic thing of it all was that I didn't even like real maple syrup! I remember getting some from a farmer years earlier and it was black and tasted like tar and woodsmoke…I thought 'gross, who would ever want that?'. Then I got some from the folks closing shop and I was blown away…amber in color it was delicious like nothing I had ever tasted before. This stuck with me as it showed how different maple syrup can be based on the type of preparation, equipment, soil, etc. I began to research the maple industry and wrote up a business plan for the new operation. I knew I had a lot of work ahead of me but that was ok. I finally found comfort in knowing my son would have something he could learn, love, and take pride in as he grew older.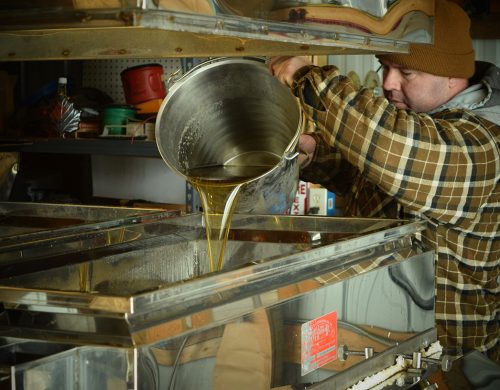 In 2011 Happy Jacks Maple was born. While I had the maple trees, I only had about 10 months to install 3000 taps, tubing and vacuum, build a sugar barn, locate and purchase the maple equipment needed for production, and hookup and install everything. Friends and family chipped in and we met our goal. In February 2012 we made our first batch of maple syrup.
Every year since, we have added upgraded equipment, tubing, and taps to the operation. As our business grew, so did our family. In 2012, our daughter Brooke was born and she was healthy and beautiful. In 2014, our daughter Julia was born healthy and beautiful.
Fast-forward to today and our family and maple syrup business is busy. So busy in fact that I decided to step down from my role as a police officer to focus on my family and our maple syrup business.